Dallas Auto Glass Done Right!
Have you been putting off a broken car window repair in the hopes of saving money? Does the crack in your windshield seem too small to spend your afternoon researching a cheap car window repair service in Dallas? Are you unsure if a mobile car window repair is worth the cost? Jacobs Low Price Auto Glass Dallas takes a look at why it might be time to stop the procrastination and get a free quote for your broken car window today.
Repairing Your Car Window Now Can Help Prevent Future Damages
When it comes to Dallas auto glass shops, it can be hard to find the right one. If you are driving with a crack in your windshield, side, or back windows, you and your passengers could be at a greater risk of injury in the case of an accident. An expert auto glass repair team will be able to assess the best repair technique for your window, and prevent further chips or increases in the size of the crack. For example, they'll know that if you have a crack in your windshield that is longer than 3 inches, located at the edge of the windshield, or radiating in several different directions, the safest solution is to get a quote for a windshield replacement.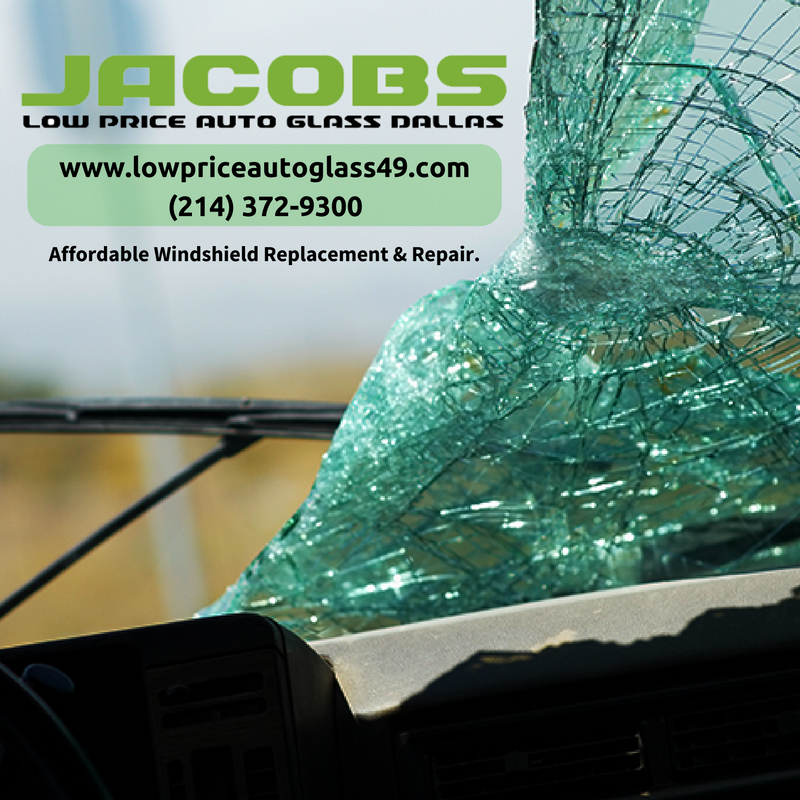 Don't Be a Target for Thieves
Jacobs Low Price Auto Glass Dallas knows that in a large city like Dallas, it's important to do everything you can to protect yourself against a car break-in. A damaged or cracked window presents an easy opportunity for a thief to access your vehicle and your belongings. Furthermore, it can signal to a passer by that your car is unalarmed, presenting a more attractive target for a break in. Almost everyone will be the victim of a car break in at some point or another, but limiting the risk today can help prevent theft tomorrow.
Maintain the Value of Your Car
You may be considering selling your car to upgrade in the not-too-distant future. Perhaps you'd like to purchase a larger vehicle for your growing family or weekend outings. Or maybe you've got your eye on a newer model which has more of the features you need. It's wise to do everything you can to maintain the value of your vehicle in order to optimize how much you'll be able to ask for when it comes time to sell. Routine maintenance from a reliable, local auto glass service can help ensure that you're doing all you can preserve the value of your car.
Prevent Leaks & Water Damage
Jacobs Low Price Auto Glass Dallas knows Dallas auto glass. Whether a chipped, cracked, or ill-fitting window, all can lead to interior water damage to your doors, seats and floors. Not only can water damage cause mold, but it can lead to issues with the electrical system housed in your door, and make for an uncomfortable (not to mention smelly!) ride. For the best Dallas auto glass Take care of your car windows now and avoid the damp and dank seats brought on by the wetter seasons.
Reduce Stress on Your Heating and Cooling System
If you are driving with broken or cracked windows, you could be making your A/C or heating system work overtime. Just like the heating and cooling system in your home, you'll get a more efficient performance when your windows and doors are properly sealed and secured.
Getting your car windows repaired can be easier and more affordable than you think. Contact Jacobs Low Price Auto Glass today on (214) 372-9300 to arrange a free quote. With over ten years of experience in the Dallas auto glass game and hundreds of satisfied customers, you can be confident you're working with a company that will provide a fair price, high quality labor, and the best quality materials you can afford for your vehicle.