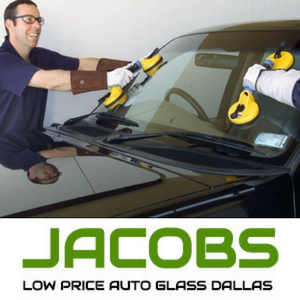 Jacobs Low Price Auto Glass Dallas, has one of the largest in shop inventories of auto glass.  This is beneficial for our walk in customers, as well of those that are just in need of quick repairs.  We understand that there is never a convenient time to have your windshield or car windows broken or damaged.  It is our goal to help you get them fixed quickly, professionally, and at a reasonable cost.
We work with all major insurance companies as well, for those that have their glass covered by insurance.  However, in many cases, we are able to do the repairs for less than the cost of your deductible.
 Will My Windshield Look the Same?
Unless you have put on an aftermarket tint, your glass will look exactly the same.  We make sure that the tint and shade are the same as the factory installation.  If there are factory electronics, such as heated windshields, or built in antennas, you can be sure that the replacement will have those as well!  When it comes to the auto glass Dallas market, we strive every day to be number 1!
Auto Glass Replacement Dallas
If you need your windshield replaced, call Jacob's Low Price Auto Glass.  Jacob's strives to be #1 in auto glass replacement in Dallas for quality, convenience, and cost.
There's never a "good" time for auto glass damage to occur, and then it seems impossible to make the time to get your car or truck into the shop.  But don't risk your safety and those of your loved ones by driving around Dallas with a cracked or poorly installed windshield.
A damaged windshield is much more of hazard than simply obscuring your view or becoming a distraction.  Airbags are designed to deflect off the windshield.  If that auto glass fails, or pops out due to improper installation, you loose that vital protection.  Furthermore an intact windshield is an important part of you car's structure, typically providing around half of the support strength in a rollover accident.  In many cases, such as the following, insurance companies insist on replacing a windshield rather than repairing it.  You should replace your windshield if it has any of the following.
cracks or chips near the edge of the windshield
cracks longer than a certain length, usually around 3 to 6 inches
cracks that radiate in several directions
more than 2 or 3 cracks or chips
Even for-profit insurance companies recognize that it's worth spending the money now to avoid the risk of future damage and injury.
Our Auto Glass Replacement Dallas Shop
Jacob's is located south of downtown Dallas, and takes pride in providing high-quality replacements at the most affordable prices in the DFW area.  Your satisfaction is our top priority!  For the very best in service, just call us for an appointment.  We also welcome walk-ins.
With our huge in-shop inventory of top-quality auto glass it's likely we'll already have the front or rear windshield you need.  This means that we can often provide same-day replacement.
Our staff is experienced and highly trained.  These windshield replacement technicians have all the latest techniques and tools.  We provide them with whatever equipment and special tools needed for auto glass removal and replacement with no damage to your vehicle
Mobile Auto Glass Replacement in Dallas
For extra convenience and to save you time we can come to you, whether that's at home or while you're at work.  That also saves you the hassle of arranging drop-off and pick-up.  Your vehicle will receive the same quality materials and workmanship as in our shop.  Quick curing adhesives and sealants mean that your vehicle will be ready to drive about an hour after we're done.
Jacob's Low Price Auto Glass Replacement Dallas
In business since 2000, we're known throughout the Dallas metro for our fast, professional, and competitively priced services.
Over those years we've worked with just about every make and model vehicle. We'll match the factory tint and shade (although not after market tinting) with your other auto glass so that everything looks right.  Your new windshield will have whatever antennas and defogger / defroster your old one did, and we'll make sure that they're connected and working properly.
We work with all major insurance companies to help our customer's claims proceed smoothly.  Jacob's low price auto glass makes customer service our top priority and we included a lifetime warranty on our auto glass and windshield installation against water and air leakage.