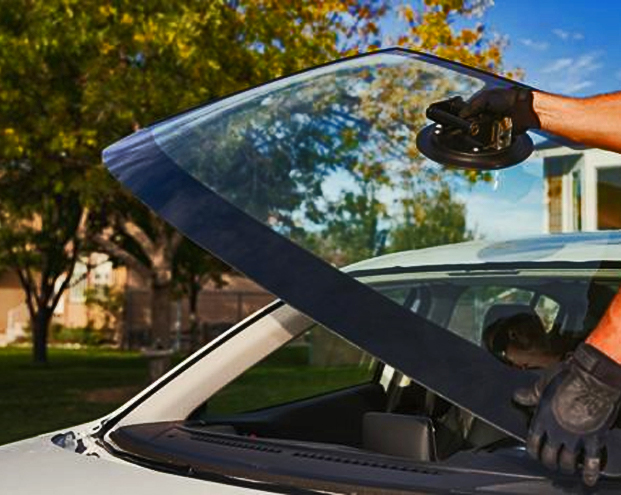 Identifying the right time to replace your windshield in Dallas is crucial for maintaining both the safety and aesthetics of your vehicle. A damaged or compromised windshield can lead to hazardous driving conditions, especially during extreme weather events. In this blog post, we will delve into various aspects related to windshield replacement and repair.
We'll discuss warning signs that indicate a damaged windshield, factors determining whether you should opt for repair or replacement services, and insurance coverage policies available for such situations. Furthermore, we will explore the process involved in repairing windshields and how to choose a trustworthy auto glass center in Dallas.
Lastly, after getting your windshield replaced at the right time in Dallas, it's essential to know how to care for it properly. We will provide tips on cleaning methods and curing times so that you can enjoy an optimally functioning new windshield while ensuring its longevity.
Table of Contents:
Warning Signs of a Damaged Windshield
Your vehicle's windshield plays a crucial role in ensuring your safety while driving, so it's essential to know the warning signs that indicate it may need replacement. One common sign is if you notice rattling or bouncing while driving, which could be due to improper installation or damage caused by an auto collision. In such cases, consult a technician immediately.
Rattling or Bouncing Windshields
A damaged windshield might not fit snugly into its frame anymore and can cause rattling noises when you drive over bumps or rough surfaces. This can lead to a decreased field of vision and heightened danger while driving.
Crooked or Wavy Patterns on the Glass
If you observe crooked or wavy patterns looking out through your windshield, this could mean there's distortion in the glass caused by manufacturing defects or previous repairs gone wrong. Distorted windshields can impair your vision and make driving unsafe; therefore, seeking professional help from an auto glass repair shop in Dallas should be done promptly.
Being conscious of the indications of a cracked windshield is critical, as they may suggest when it's time to mend or switch out the pane. Repair vs Replacement – Factors to Consider discusses factors that should be taken into account before making this decision.
Repair vs Replacement – Factors to Consider
When deciding whether to repair or replace your damaged windshield, it's crucial to consider factors like crack size and depth as well as location on the glass surface. In some cases, minor damages can be fixed instead of complete replacements, saving you money without compromising safety standards.
Crack Size and Depth Considerations
Windshields should generally be replaced if cracks extend beyond the edges of the glass, are longer than dollar bills (6 inches), or deeper than halfway into its thickness (1/8 inch). Smaller cracks may qualify for repairs rather than full replacement.
Location of Damage on the Windshield
The position of the harm can also have a major bearing on deciding if a repair is doable. If a crack obstructs your line of sight while driving or is near sensors that affect vehicle functionality, replacement might be necessary for optimal safety.
Evaluating these factors will help you make an informed decision about repairing versus replacing your damaged windshield while keeping costs affordable and ensuring proper protection during your daily commutes in Dallas.
Weighing up the breadth and profundity of a break, in addition to its position on the windscreen, is pivotal when settling on whether to mend or supplant it. Therefore, insurance coverage for repairs and replacements should be explored in order to save money while ensuring that your vehicle remains safe.
Insurance Coverage for Windshield Repairs and Replacements
When dealing with windshield damage, it's essential to check with your insurance provider as they may cover the costs associated with repairs or replacements under comprehensive coverage policies. Comprehensive coverage typically includes protection against non-collision damages such as glass breakage caused by rocks or debris.
Comprehensive coverage policies: These policies often cover expenses related to windshield repair or replacement. However, it's crucial to review your specific policy terms and conditions before making any decisions.
Saving money with insurance assistance: Understanding what is covered by your policy can help you make informed choices about repairing versus replacing a damaged windshield while keeping costs affordable. For instance, some insurers offer deductible waivers for minor repairs that prevent more extensive damage in the future.
In addition to checking your insurance coverage, be sure to consult a professional auto glass technician who can assess the extent of the damage and recommend appropriate action based on safety standards. By combining expert advice with potential financial assistance from your insurer, you'll be well-equipped to address any windshield issues promptly and effectively.
Having comprehensive coverage policies can save you money when it comes to windshield repairs and replacements. To ensure a successful repair, familiarizing yourself with the process involved is essential.
The Process Involved in Repairing Windshields
Repairing a damaged windshield involves several crucial steps to ensure the restoration of its structural integrity and clarity. The process typically begins with applying adhesive substances over the cracked areas, which helps fill in any gaps or voids caused by the damage. This is followed by allowing sufficient time for these materials to cure undisturbed.
Windshield repair process
Understanding windshield repair resin
In addition to curing periods, it's essential to remove any excess residue using razor blades or other specialized tools. For stubborn residues that are difficult to eliminate, lighter fluid acetone solutions can be used as an effective dissolving agent during cleanup stages.
Curing Periods and Residue Removal
To achieve optimal results from your windshield repair, it's vital to allow at least one hour for the adhesive materials used in securing glass components together to properly cure before driving your vehicle post-replacement. This will help avoid inadvertently compromising the integrity of the structure itself and risking potential safety hazards arising thereafter.
Once the adhesive has been applied and had a chance to set, any remaining debris from the repair must be eliminated. Choosing a trustworthy auto glass center in Dallas will provide you with high-quality materials and installation techniques as well as competitive pricing and warranty coverage for your windshield replacement or repair needs.
Choosing a Trustworthy Auto Glass Center in Dallas
Once you've determined that it's time for a new windshield replacement in Dallas, selecting a trustworthy auto glass center becomes vital for ensuring high-quality materials and advanced installation techniques are employed throughout procedures undertaken, guaranteeing optimal results achieved every time without fail. Faith Auto Glass offers competitive pricing, comprehensive warranty coverage, and exceptional customer service to ensure a seamless experience from start to finish.
High-quality Materials and Installation Techniques
A reputable auto glass center will use only top-notch materials like OEM (Original Equipment Manufacturer) windshields and industry-approved adhesives. This ensures your windshield is durable, safe, and meets all safety standards. Additionally, experienced technicians should employ advanced installation methods to guarantee the best possible fit for your vehicle.
Competitive Pricing and Warranty Coverage
Pricing: Look for an auto glass center that provides transparent pricing with no hidden fees or surprise charges. A reliable company will offer affordable rates while maintaining quality workmanship.
Warranty: Choose an establishment that stands behind their work by offering extensive warranty coverage on both parts and labor. This gives you peace of mind knowing any issues arising after the installation will be addressed promptly.
Choosing a trustworthy auto glass center in Dallas is an important decision that should not be taken lightly. To ensure the longevity of your new windshield, it's essential to take proper care and maintenance after installation – this will be discussed further in the next heading.
Post-Installation Care for Your New Windshield
After the installation is completed, it's essential to take proper care of your new windshield to ensure its longevity and maintain safety standards. Following a few simple steps can help you achieve this goal:
Clean your new windshield with mild soap and water: Gently clean the glass surface using a soft cloth or sponge soaked in a mixture of mild soap and water. This will help remove any debris or contaminants left behind during the installation process. Avoid using harsh chemicals or abrasive materials that may damage the glass.
Allow proper curing time before driving: It's crucial to allow at least an hour for adhesive materials used in securing glass components together to properly cure before driving your vehicle post-replacement. This ensures that the integrity of the structure remains uncompromised, minimizing potential safety hazards down the line.
In addition to these basic maintenance tips, consider scheduling regular inspections with a trusted auto glass center like Faith Auto Glass, who can identify any issues early on and provide necessary repairs or replacements as needed.
FAQs in Relation to The Right Time to Replace Your Windshield in Dallas.
Does Texas have a windshield replacement law?
Texas does not have a specific windshield replacement law. However, the state enforces vehicle safety standards that require drivers to maintain their windshields in good condition. If your windshield is severely damaged or obstructs your view while driving, you may be cited for violating these safety regulations.
What is the law in Texas for a cracked windshield?
In Texas, it's illegal to operate a vehicle with any crack or damage on the front windshield that impairs the driver's vision. The Texas Department of Public Safety states that cracks larger than 1/4 inch wide and chips larger than 1 inch in diameter are considered hazardous and must be repaired or replaced.
Does Texas require a deductible for windshield replacement?
Texas does not mandate insurance companies to waive deductibles for windshield replacements. Whether your insurer will cover the cost without requiring you to pay a deductible depends on your policy terms and coverage levels. It's essential to review your insurance policy or consult with an agent about this matter.
How long should a car windshield last?
A car windshield can typically last anywhere from 10-20 years if properly maintained and cared for. However, factors such as accidents, weather conditions, road debris impacts, and manufacturing defects can shorten its lifespan significantly. Regular inspections by professionals at auto glass centers can help identify potential issues early on.
Conclusion
When it comes to windshield replacement, it's important to pay attention to warning signs of damage such as rattling or bouncing windshields and crooked or wavy patterns on the glass. Factors like crack size and depth, location of damage, and insurance coverage should also be considered when deciding between repair vs replacement.
Choosing a trustworthy auto glass center in Dallas that uses high-quality materials and installation techniques while offering competitive pricing and warranty coverage is crucial. And after getting your new windshield installed, proper post-installation care including cleaning with mild soap and water and allowing for proper curing time before driving is necessary.
If you're in need of windshield replacement services in Dallas, remember that choosing the right time to replace your windshield can prevent further damage down the road. Contact Low Price Auto Glass today for reliable service at an affordable price!