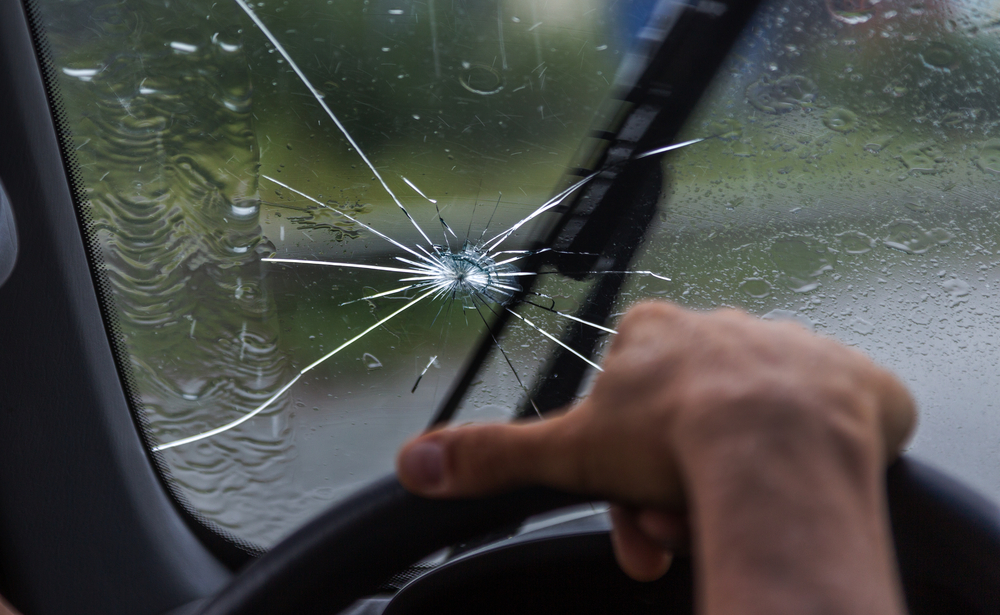 Is it illegal to drive with a cracked windshield in Texas? This question is often on the minds of car owners who find themselves dealing with damaged windshields. In this blog post, we will delve into the intricacies of Texas laws and regulations concerning cracked windshields, providing you with valuable information that could potentially save you from traffic tickets or even more severe consequences.
We will explore topics such as how obstructed views can be considered distractions for drivers and the importance of passing vehicle inspections. Additionally, we'll discuss safety glass requirements for windows and guidelines for legal window tinting in Texas.
Furthermore, our discussion will cover auto insurance coverage options for windshield repairs or replacements, including comprehensive vs minimum required policies and deductibles versus out-of-pocket expenses. Lastly, we'll examine federal regulations on broken windshields enforced by the U.S Department of Transportation and non-moving violations' potential consequences.
By understanding these crucial aspects surrounding "Is it illegal to drive with a cracked windshield in Texas?", you can make informed decisions about your vehicle's maintenance while ensuring compliance with state laws and avoiding unnecessary risks on the road.
Table of Contents:
Texas Traffic Laws and Cracked Windshields
In Texas, traffic laws do not specifically mention cracked or damaged windshields. Nevertheless, driving with a hindered view can be deemed as a source of distraction and could lead to monetary penalties. The Texas Department of Public Safety states that your car will not pass inspection if your windshield is cracked directly in front of the driver's line of sight.
Obstructed Views as Distractions for Drivers
A cracked windshield can significantly impair a driver's clear view, making it difficult to see other vehicles, pedestrians, or potential hazards on the road. This increases the risk of accidents and puts everyone's safety at stake. Therefore, it is essential to address any windshield cracks or damage promptly to avoid breaking Texas laws and ensure safe driving conditions.
Importance of Passing Vehicle Inspections
Safety Concerns: A broken windshield compromises the structural integrity of your motor vehicle, which could lead to severe consequences during collisions.
Traffic Ticket: Failing a vehicle inspection due to a damaged windshield might result in receiving a traffic ticket from law enforcement officers.
Roadworthiness: Regularly inspecting and maintaining all aspects of your car – including window glass – ensures its overall roadworthiness and prolongs its lifespan.
If you notice any issues with your windshield wipers or steering wheel visibility due to cracks or chips in the glass, consider getting them repaired immediately by scheduling an appointment for professional windshield replacement or repair services. This will help you avoid a repair bill and ensure that you are in compliance with Texas laws.
It is important to be aware of the regulations in Texas regarding cracked windshields, as it can cause a distraction for drivers and fail vehicle inspections. In Texas, certain conditions must be fulfilled when tinting windows or substituting glass with safety glass in order to ensure secure driving.
Windshield Regulations and Tinting Rules
While Texas law does not require windshields on any vehicles, it mandates that all window glass be made of safety glass and have no obstructions placed within them. This ensures the driver's vision remains unobstructed while driving, reducing the risk of accidents caused by distractions.
Safety Glass Requirements for Windows
All motor vehicle windows in Texas must be made from safety glass to minimize potential injuries in case of an accident or broken windshield. Safety glass is designed to shatter into small pieces rather than large shards when damaged, reducing the likelihood of injury. It is essential to ensure your car's windows meet these requirements to avoid traffic tickets or other penalties.
Guidelines for Legal Window Tinting
Light Transmittance: In Texas, window tint must allow more than 25% light transmittance through both the film and window glass combined.
Mirrored or Reflective Tint: The use of mirrored or reflective tint is allowed as long as it has a reflectivity rating below 25%. This helps reduce glare without causing excessive reflections that could impair other drivers' visibility on the road.
For front and rear windows, the darkness of tint allowed varies depending on their location in the vehicle. For example, front side windows may only have up to a certain percentage of darkness applied while rear side windows may have darker tints permitted. To ensure you comply with Texas laws concerning cracked windshields and window tinting, consult a professional windshield replacement and repair service for guidance.
It is important to understand the windshield regulations and tinting rules in Texas, as these laws can have a major impact on your safety while driving. It is essential to be cognizant of the auto insurance coverage you may require for any necessary replacements or repairs.
Auto Insurance Coverage for Windshield Repairs or Replacements
When it comes to auto insurance policies, comprehensive coverage typically includes services like windshield replacements and repairs, helping drivers avoid breaking Texas laws regarding cracked windshields. However, if you only have the minimum required auto insurance policy in Texas, a windshield replacement may not be covered by your insurance company.
Comprehensive vs Minimum Required Auto Insurance Policies
Comprehensive coverage: This type of policy usually covers damages caused by incidents other than collisions, such as theft, vandalism, or natural disasters. It often includes glass coverage for windshield repairs and replacements.
Minimum required coverage: In Texas, the law requires drivers to carry liability insurance that covers bodily injury and property damage to others in an accident. Unfortunately, this basic level of protection does not include car insurance for broken windshields or other types of window glass damage.
Deductibles and Out-of-Pocket Expenses
If your comp auto policy covers glass costs but has a deductible (e.g., $500), you must pay that sum out-of-pocket before the insurer will cover what's left. Keep in mind that some insurers offer separate deductibles specifically for glass claims – which can sometimes be lower than standard deductibles – so it's essential to review your insurance policy details.
It is important to understand the coverage offered by your auto insurance policy when it comes to windshield repairs or replacements. Therefore, you should be aware of federal regulations regarding broken windshields before taking any further action.
Federal Regulations on Broken Windshields
It is essential to be aware of the federal regulations from the U.S. Department of Transportation regarding windshield cracks and damages. These regulations prohibit cracks larger than 3/4 inch in diameter, as well as two or more cracks within three inches apart from each other or intersecting ones altogether. Non-adherence to these standards may incur sanctions and fines.
U.S. Department of Transportation's Regulations
Cracks bigger than 3/4 inch in breadth not authorized.
No two cracks should be within three inches apart or intersecting each other.
Besides federal guidelines, states across America have their own unique set of rules concerning both requirements surrounding windshield replacements and what individual insurance companies must provide accordingly per region. Drivers should be aware of their local laws to prevent any legal problems.
Non-moving Violations and Potential Consequences
Cracked-windshield tickets typically fall under non-moving violations, which could result in a license suspension depending on the state you reside in. To prevent such consequences, it is highly recommended that car owners address any cracked windshields promptly by seeking professional repair services or opting for a complete windshield replacement if necessary.
The federal regulations on broken windshields are important to understand in order to avoid any potential legal consequences. Windshield replacement services can help car owners with cracked windshields get back on the road quickly and safely, so let's take a look at some of the options available in Houston.
Windshield Replacement Services in Houston
If you're a car owner residing in Houston, it's essential to be aware of the available windshield replacement and repair services. Driving with a cracked windshield can lead to safety concerns and potential fines due to Texas laws regarding driver's clear view obstructions. One reputable company offering these services is All Star Glass, which provides free windshield replacements if your insurance policy permits it.
Free Windshield Replacements: Comprehensive auto coverage typically includes glass coverage for windshields, allowing drivers to have their damaged windshields replaced without any out-of-pocket expenses. If your insurance policy covers this service, All Star Glass will handle the process efficiently and professionally.
Contacting All Star Glass: To learn more about their services or receive further information regarding windshield replacement options, feel free to contact them directly at (713) 936-2438 or visit their website at allstarglass.net. Their staff of professionals can assist in navigating the procedure to guarantee your vehicle complies with all security regulations and evade any fines associated with driving a car having a broken windshield in Texas.
In addition to providing high-quality windshield repairs and replacements, All Star Glass also offers other automotive glass-related services such as window tint installation according to Texas guidelines on light transmittance and reflectivity. By choosing an experienced provider like All Star Glass for your automotive glass needs, you'll not only maintain compliance with state laws but also enhance your vehicle's overall appearance and performance.
FAQs in Relation to Is it Illegal to Drive With a Cracked Windshield in Texas?
Can I Drive with a Cracked Windshield in Texas?
In Texas, it is not explicitly illegal to drive with a cracked windshield. However, if the crack obstructs the driver's view or affects vehicle safety, you may be cited for violating Texas Transportation Code § 547.613. It is recommended to repair or replace your damaged windshield as soon as possible to avoid breaking specific laws and safety concerns.
Is It Illegal to Drive with a Cracked Windshield?
The legality of driving with a cracked windshield varies by state and depends on factors such as size, location, and severity of the crack. In Texas, you may face penalties if the crack obstructs your view or compromises vehicle safety according to Texas Transportation Code § 547.613.
Can You Drive Without a Front Windshield in Texas?
No, driving without a front windshield in Texas is against the law under Chapter 20 of Title 7 – Subchapter D-1. A functioning front windshield made from approved safety glass material is required for all vehicles operating on public roads to ensure the driver's clear view and safety.
What Is the Windshield Obstruction Law in Texas?
The windshield obstruction law in Texas (Penal Code § 28) prohibits drivers from having any object that impairs their view or interferes with the operation of their vehicle. This includes cracks, stickers, and excessive window tinting that obstructs the driver's vision and steering wheel operation. Violating this law may result in a traffic ticket and affect your insurance policy.
Conclusion
Driving with a cracked windshield in Texas can result in penalties, as obstructed views pose safety hazards to drivers and other motorists. It is crucial to understand the state's regulations on windshield requirements, including safety glass guidelines and window tinting restrictions. Auto insurance coverage for windshield repairs or replacements may vary based on policy details such as deductibles and out-of-pocket expenses.
Federal regulations also limit crack sizes under certain circumstances, but it is essential to consult with professionals regarding specific laws that apply to your motor vehicle. In Houston, All Star Glass provides reliable services for repairing or replacing damaged windshields. Don't risk breaking any laws by driving with a cracked windshield – seek professional advice today!
If you need assistance with repairing or replacing your car's windshield due to cracks or damages, contact Low Price Auto Glass 49 (Jacobs) today. Our experienced team can help you with windshield replacement, windshield repairs, and more. We understand the importance of driver's clear view and safety concerns, and we can help you avoid breaking any traffic laws.